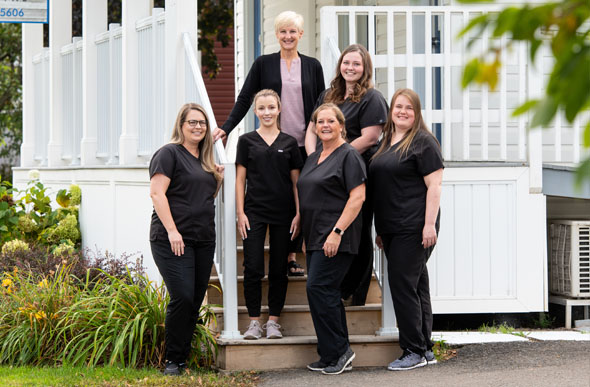 We're a small, intimate, and laid-back dental clinic in Fredericton. Our office illustrates our blend of traditional and modern – we're located in a historic building but our office is state of the art. We bring this to everything we do. If you like the idea of a classic, traditional dental office that provides advanced dental treatments then you'll like us.
We make it our mission to serve you quickly, efficiently and comfortably. All appointments are scheduled exclusively to accommodate your needs. We know your time is valuable so we strive to run on schedule.
There are many times when our patients require urgent or emergency treatment and therefore require an appointment as soon as possible. When patients give the clinic advance notice of their need to cancel a scheduled appointment, this time can, in turn, be allocated to those patients in need of urgent treatment. In this way, we can best serve the needs of all patients.
If you are unable to attend your appointment, we require advance notice of two business days. For any appointments that are cancelled within two business days of the scheduled time, there will be a cancellation fee of $50*. In the event that no notice is given and you do not show up for your scheduled appointment, there will be a $75* missed appointment fee. *Exceptions may be made for illness, weather or personal tragedy.
We love meeting new patients and seeing old friends. Call us today.
Payment Options





We also accept cash, cheque. Payment plans provided by iFinance Dental.
Office Hours
| | |
| --- | --- |
| Monday | 8:00am - 4:00pm |
| Tuesday | 8:00am - 4:00pm |
| Wednesday | 8:00am - 4:00pm |
| Thursday | 8:00am - 4:00pm |
| Friday | Closed |
| Saturday | Closed |
| Sunday | Closed |